Don't invest unless you're prepared to lose all the money you invest. This is a high-risk investment and you are unlikely to be protected if something goes wrong. Take 2 mins to learn more
Nirvana Brewery Single Company EIS
Enlightened beers from the UK's only dedicated alcohol-free brewery. Since 2016.
Highlights
This round, seeking up to £750,000, on pre-money valuation £4m
Range of 6 core beers <0.5%ABV launched since 2016
Listings with Ocado, Whole Foods and Amazon
Listings secured with key distributers to On-trade nationwide
£1m+ funding to date
Closed on £530k+ funding in current round
The overview information provided on this website is based on the data representations contained in the EIS Investor Deck provided by the firm 'Nirvana Brewery'.
Kemeny Capital has reviewed but not independently verified or scrutinised it. The information and documentation provided should be reviewed carefully. To help you make better decisions, take time to understand both the opportunities and risks of any investment you're considering. 5 questions to ask before you invest.
Total raised to date: £1.53m
Summary
About Nirvana Brewery
Nirvana are an established brand within the Low & No-alcohol market with distribution already in key retailers. Nirvana's aim now is to establish significant market share in the high-growth No & Low-alcohol market by expanding distribution into grocery retailers and on-trade regional and national groups.
Nirvana's core range is already listed with Ocado, Amazon, Whole Foods and more, and have now secured meetings with 3 out of 4 buyers from the big 4 retailers. Investment will be used primarily to expand the sales team and invest in marketing activity to support grocery listings.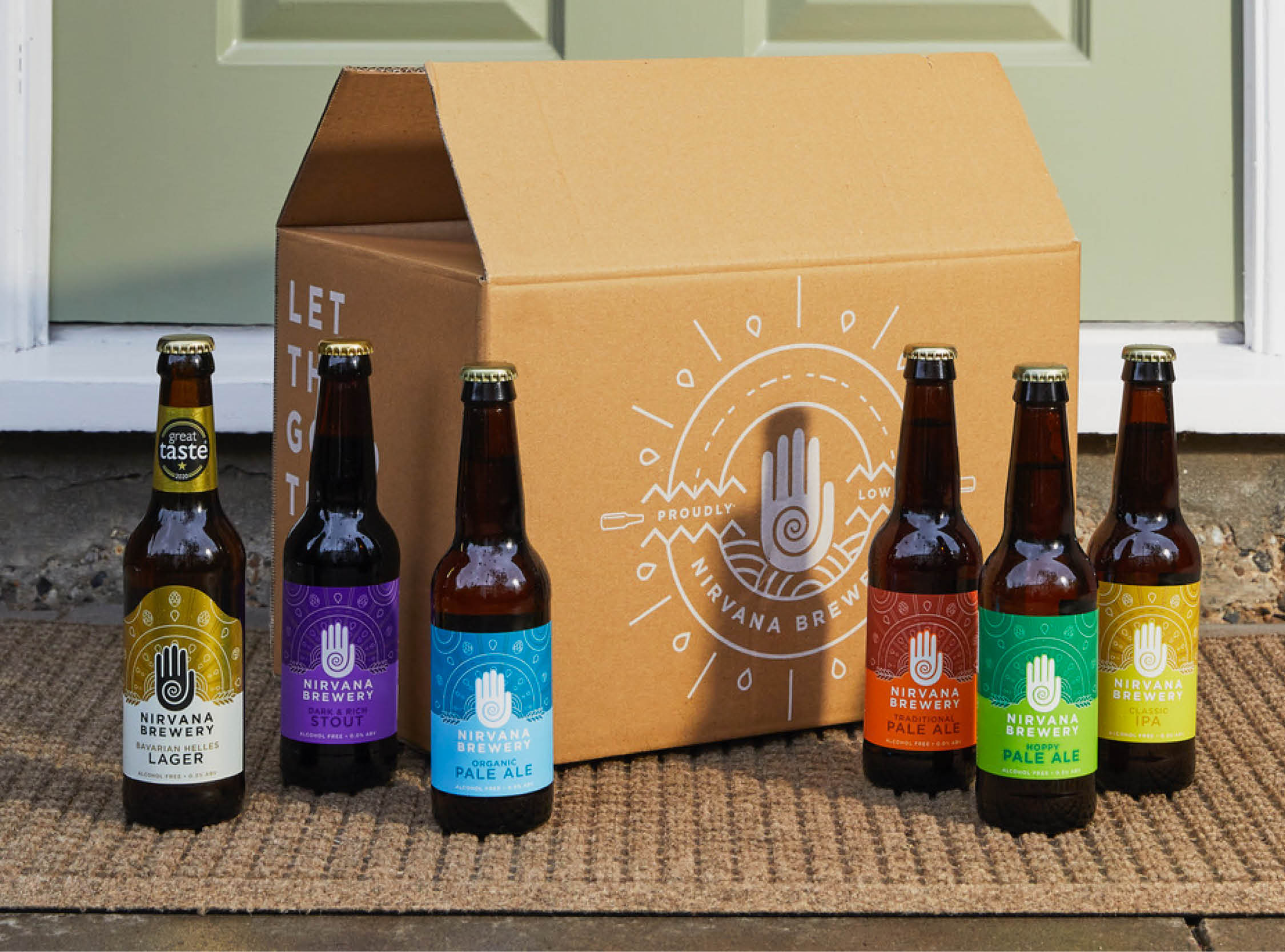 ESG & Impact
Nirvana Brewery has the potential to help hundreds of thousands of people with alcohol problems and provide a healthier alternative to alcoholic options.
Nirvana Brewery supports UN Sustainable Developments Goal 3 (Good Health and Well-Being).
The Market
UK sales of low & no-alcohol beers have almost doubled in five years.
A quarter of all 18-24 year olds describe themselves as non-drinkers, a number increasing each year.
25% of the total population also buy into the "Low & No" concept.
47% of UK adult drinkers look forward to cutting back on their alcohol intake. (Opinium survey)
Premiumisation is the next most significant trend influencing the UK beer market.
The opportunity is global
 Globally, the Low & No alcohol market is expected to grow by 34% by 2024.
 In 2020, British brewers' total overseas trade of all beers were £400 million.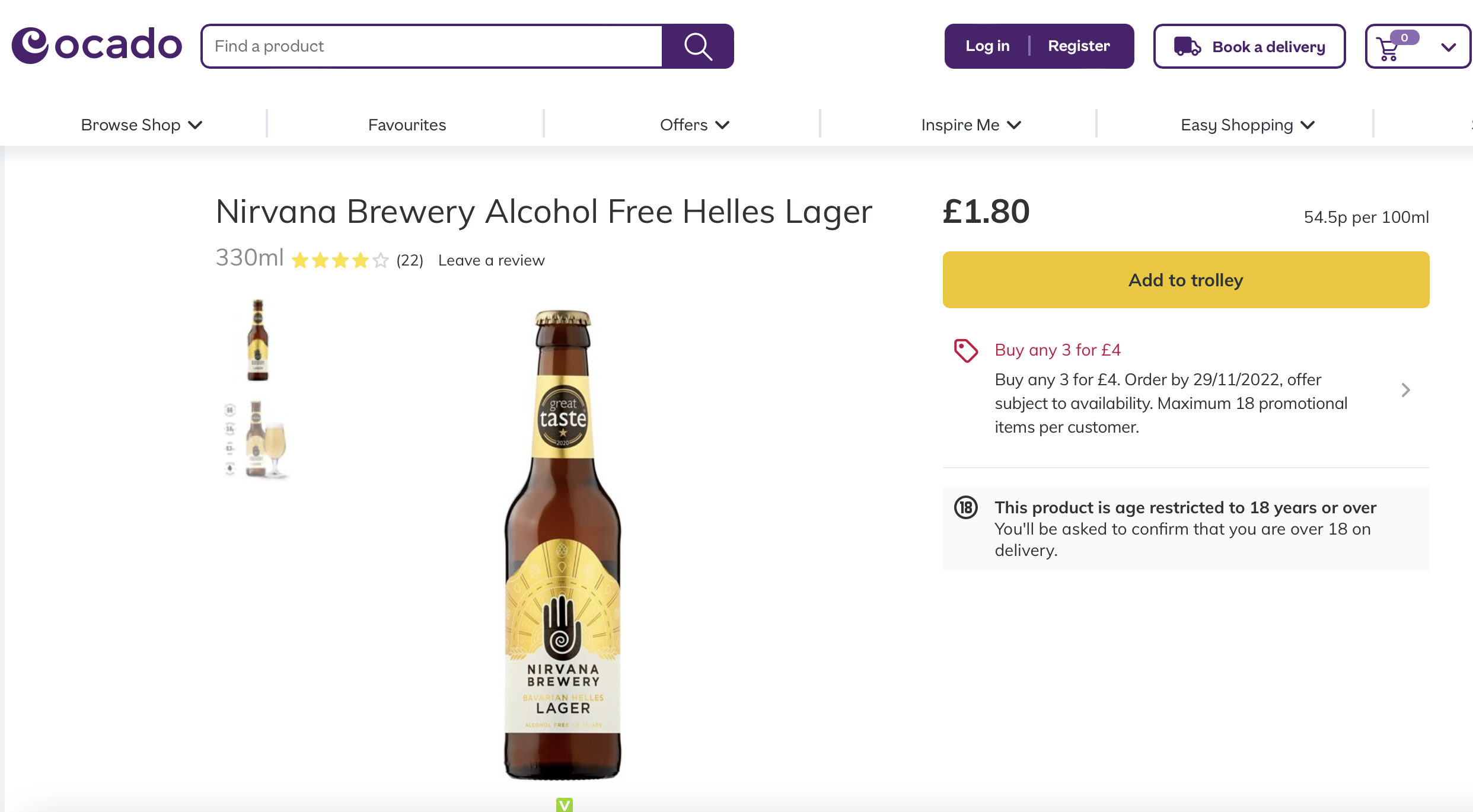 View Nirvana Brewery products on Ocado.
Business Model
Nirvana is a unique prospect in the Low & No alcohol sector for several reasons.
Most brands in the sector do not make their own drinks – they outsource it to larger breweries. We are a true brewery, with lower overheads, more product control, less exposure to market pricing shifts, and more direct customer service. We're also more agile and innovative
because we live the brand and breathe the malt dust.
We are committed to developing and trialling new ways to make better AF drinks and have the ability to experiment in-house with multiple methods rather than focussing on just one, or outsourcing product development. As a result we have won countless awards for our beer, and built a loyal customer base.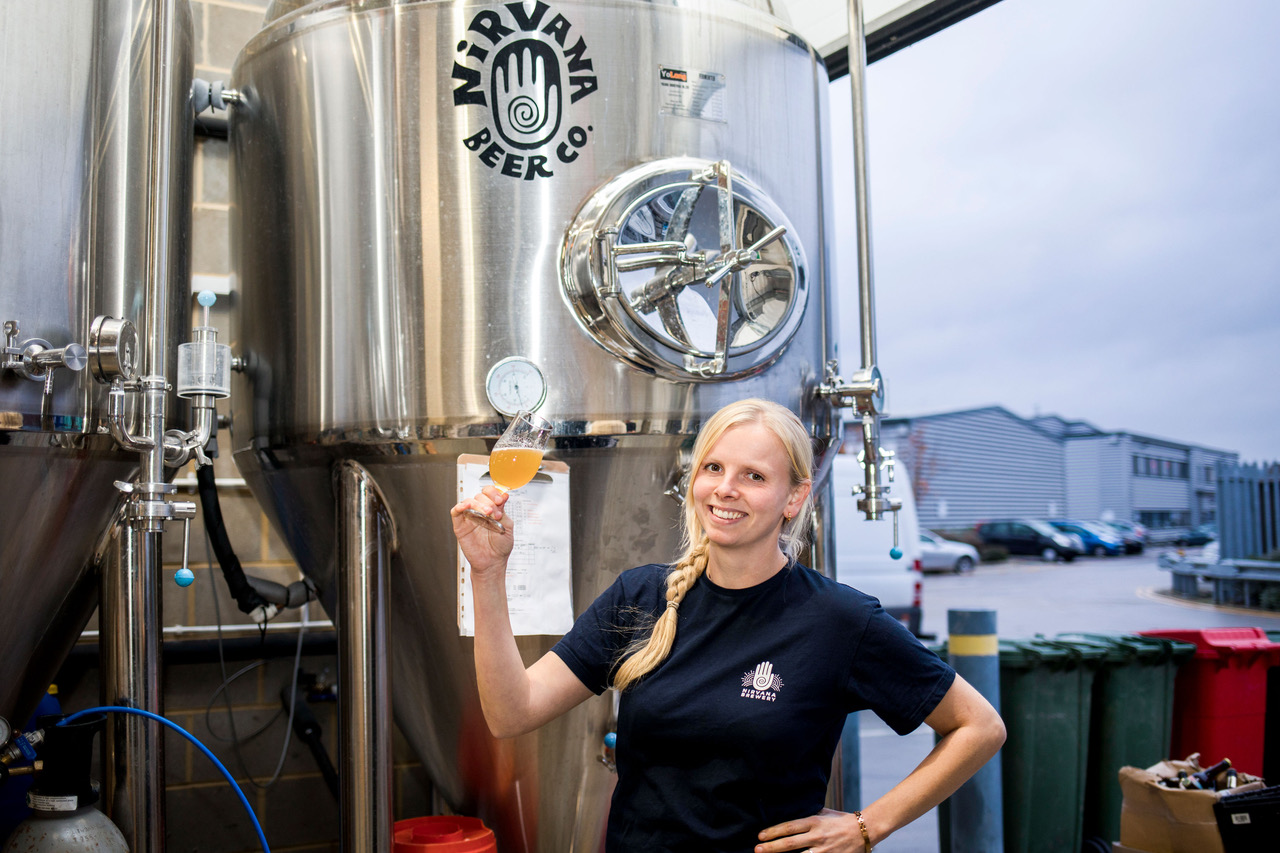 Team
Becky Taylor-Kean – Founder & CEO
Becky is a founder and entrepreneur and winner of Management Today's 35 Women under 35 award. She has a passion for business and entrepreneurship. With a degree in Business Management from London School of Economics she spent time working in a Mentoring Foundation which matched Women in FTSE100 companies with senior Chairmen mentors to help more women reach the boardroom and top-level positions.
Since 2016 she cofounded Nirvana Brewery with her family and another business partner, and has been the sole CEO since 2018. With now over 6 years of experience in building a drinks brand, she is knowledgeable and proficient in the drinks and hospitality industry, and has become an expert on beer and alcohol-free brewing.
Aaron Smedley – Head of Marketing (Ex ABInBev)
An experienced and international customer centric Senior Director, Marketing and DTC most recently leading Omnichannel strategy and Digital Product at Anheuser-Busch InBev. A background in senior roles with global brands including Arc'teryx, and Apple across North America and Europe.
A proven track record of designing, delivering, and driving omnichannel strategy and execution for all Direct to Consumer channels and Franchise programs across markets in NorthAm, Europe and the Middle East.
Passionate about the customer experience, journey and value proposition together with a deep knowledge and understanding of best in class operational excellence, processes and procedures, and with a demonstrated record of coaching, training and developing high performing leaders and teams in fast-paced and high-growth consumer focussed environments.
David Martin – Board Advisor
David has a degree in Electronic engineering and 20 years experience in Philips Electronics, as General Manager of a UK Division. He was head hunted by Sir Herman Hauser to run an internet start up in Cambridge, and subsequently has 8 years of experience working with Start ups. He now runs three companies:
• Martinek Ltd (2003) Business consultancy
• Interpretersportal (2009) Provision of Interpreters
• The Business of Drinks (2015) Business support to SMEs in the brewing, cider & wine sector
Financial Projections
| | 2022 | 2023(E) | 2025(E) |
| --- | --- | --- | --- |
| Sales | 187,086 | 400,000 | 1,750,000 |
| Gross Profit | 59,452 |  187,853 | 915,688 |
| EBITDA | (145,257) | (334,655) | 132,383 |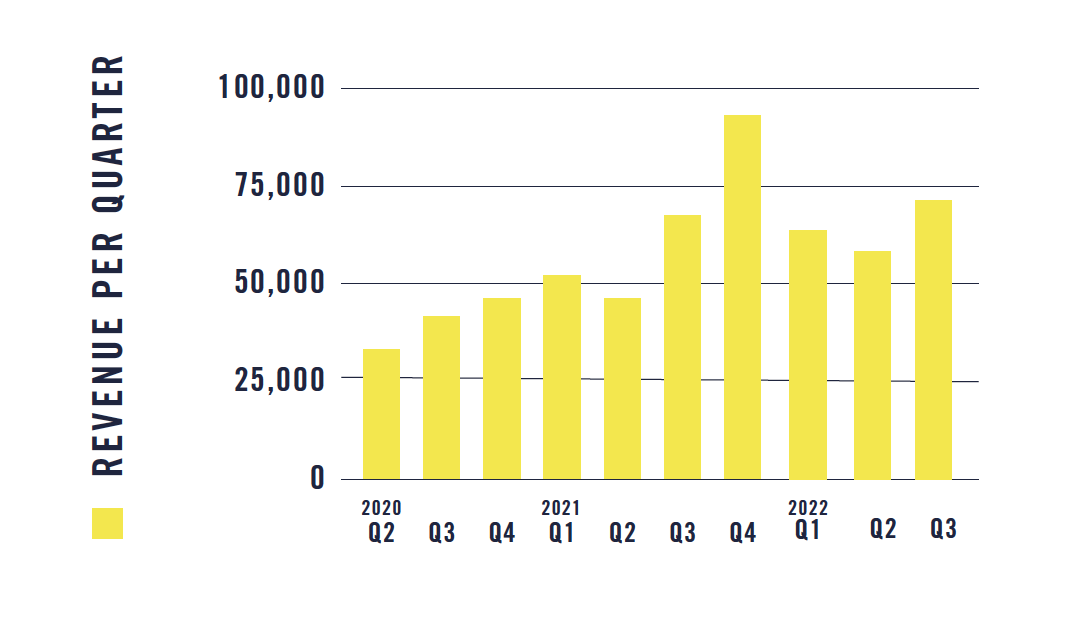 Risks
As with all offers found on Kemeny Capital's website, this offer is exclusively aimed at UK resident persons who are required to self-certify as either a Sophisticated Investor or High Net Worth Individual.
The value of investments may go up as well as down and there is no guarantee of any investment return. Investments in private companies carry significant risks including loss of capital, illiquidity, and no guarantee of regular income from the investment. You should understand the risks involved and be capable of making investment decisions based upon your personal circumstances. Past Performance is not an indicator of future performance.